May 8, 2019 Way to go!!!
Tracy City Elementary School
2018-2019 County-Wide Field Day
May 8, 2019 Winners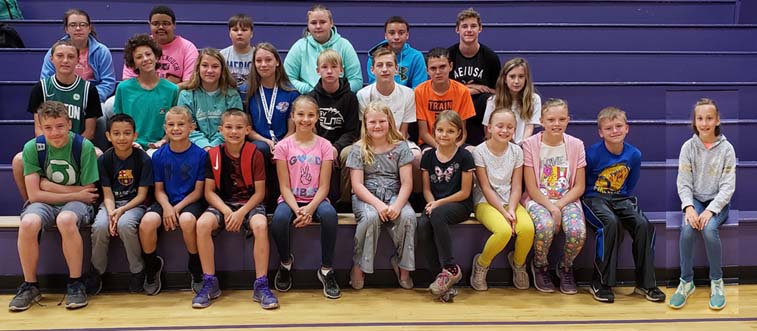 Mr. Jon Haskew and several of our amazing students headed to the
high school on May 8th to participate in the county-wide field day.
Our fine students came home with 34 medals. Not to shabby!
Congratulations to each of our participants, Mr. Haskew, and to all
of those who took part in the day! Yet another example of how
amazing our children are!
50 Yard Dash
3rd grade—Alice Merrell 2nd
4th grade—Kallie Parson 1st
Vincent Bryant 1st
Hunter Stiefel 2nd
5th grade—Scarlet Walkden 2nd
Angel Cantrell 3rd
6th grade—Sam Parson 2nd
7th grade—Zach Cooley 1st
Angelia Sanders 2nd
Shelby Nunley 3rd
8th grade—Jeffrey Jr. Crisp 2nd
¼ Mile Run
3rd grade—Bailey Handing 1st
Alice Merrell 2nd
Bryden Herrera 2nd
4th grade—Kallie Parson 2nd
Vincent Bryant 1st
Maddox Parson 3rd
5th grade—Scarlet Walkden 3rd
½ Mile Run
6th grade—Caden Sitz 3rd
7th grade—Angelina Sanders 2nd
8th grade—Alex Parson 3rd
Sack Race
3rd grade—James Lankford 3rd
4th grade—Vincent Bryant 2nd
Jacob Stiefel 1st
5th grade—Alexann Cantrell 2nd
Peyton Copeland 3rd
Softball Throw
3rd grade—Brooklyn Burrows 1st
4th grade—Kallie Parson 2nd
5th grade—Sophie Parmley 1st
6th grade—Abby Nunley 1st
Football Throw
4th grade—Jacob Stiefel 1st
5th grade—Malachi Strong 3rd
Long Jump
6th grade—Sam Parson 1st
7th grade—Zach Cooley 2nd
8th grade—Brendan Marsh 3rd
Hula Hoop
7th grade—Shaylee Myers 3rd